2 upright piano instruments (classic and felted)
Texture instrument including 24 warped experimental patches
Pre-made snapshots
NKS ready
Works with KONTAKT Player and KONTAKT 6.4.2 or higher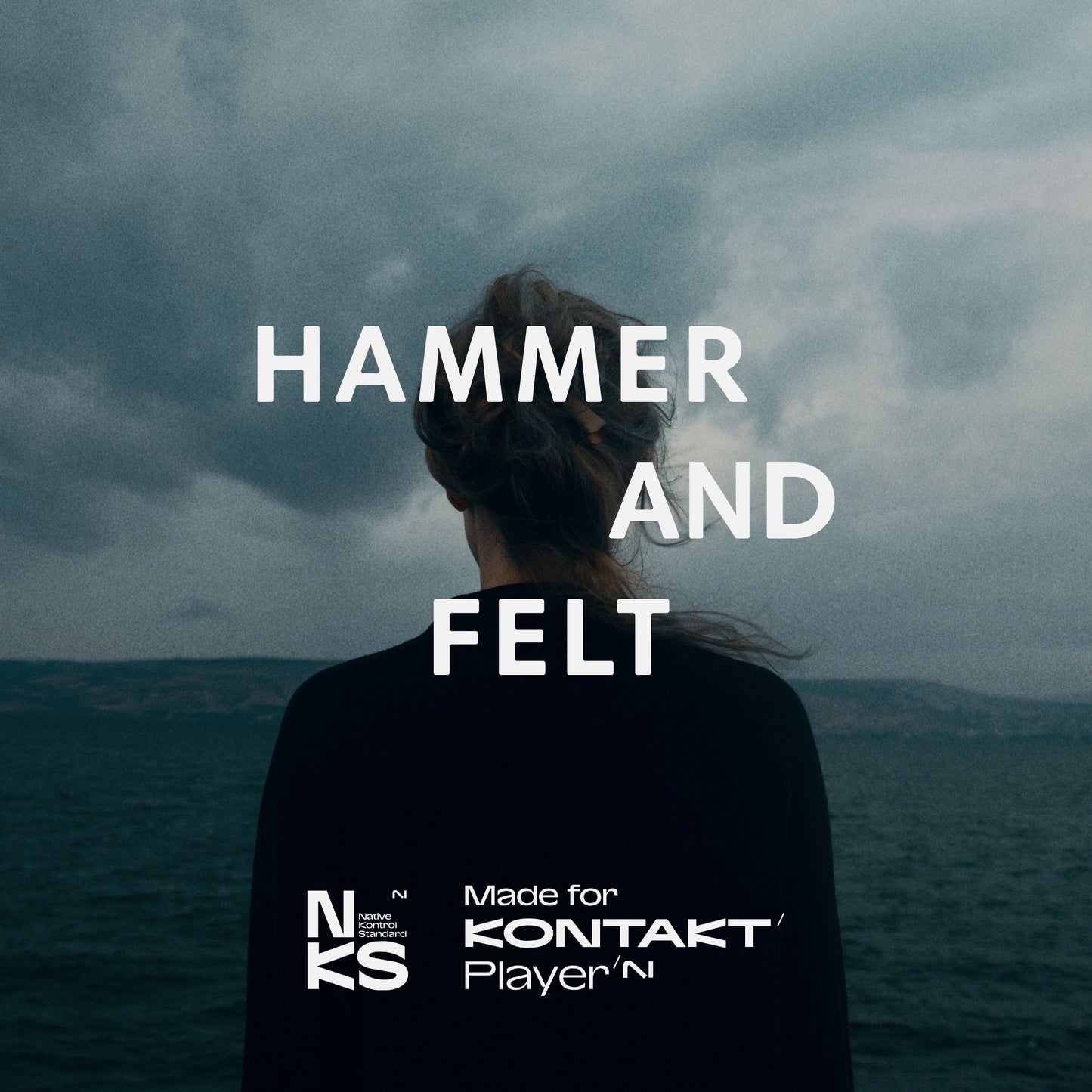 Hammer

Classic upright piano for general purposes to quickly get ideas out of your head and easily tell your stories.

Felt

Felted upright for a more fragile and pure sound with lots of character.

Texture

From lush analog pads or tape loops to experimental pianos, these patches are will enhance your compositions.
Tell your story faster than ever
This upright piano library is far from being clean and prestine and this is why you'll like it!
From the classic upright piano sound to a more intimate one and with experimental and lush sounds, Hammer & Felt will help you getting ideas faster than ever. With a simple yet effective interface, tweak the sounds to suit your composition or bring them to new sound design worlds. Including room noises, subtle breaths, key noises, tape hiss and much more, this library is full of fragility and personality.
2 upright pianos

A lovely Pleyel upright piano that was sampled using a pair of small condenser microphones placed at ears height for a nice stereo imaging.
While the Hammer patch has the microphones placed at the player level, Felt has them as near as possible to the hammers in order to get all the mechanism sounds, imperfections and felt sweetness giving you the feeling of being inside the piano.

Textural patches

Layer the piano with one of the 24 beautifully crafted experimental patches from the Texture instrument.
While some of these patches are simply the upright piano samples mangled and played thru various machines for unique patches, other are new recordings of the piano played in less conventional ways such as hitting, tickling or muting the strings.
Collapsible content
Software

Works with the free KONTAKT Player software or KONTAKT 6.4.2 and higher
NKS ready

Full support for Native Instruments software and hardware including browsing, sound previews, key light-guides and more. Learn more about NKS here.
Samples

46 snapshots
Nearly 400 samples at 48kHz, 24bit
Installation

A serial number will sent by email after the order has been processed (usually takes less than 2 minutes).
Authorize and install the library with it on Native Access software. If you don't have Native Access already installed you can get it here.
Disk space

2.08GB of disk space needed