67 sound sources recorded from a wide range of instruments
Synthesizer like architecture
More than 150 pre-made snapshots
NKS ready
Works with KONTAKT Player and KONTAKT 6.4.2 or higher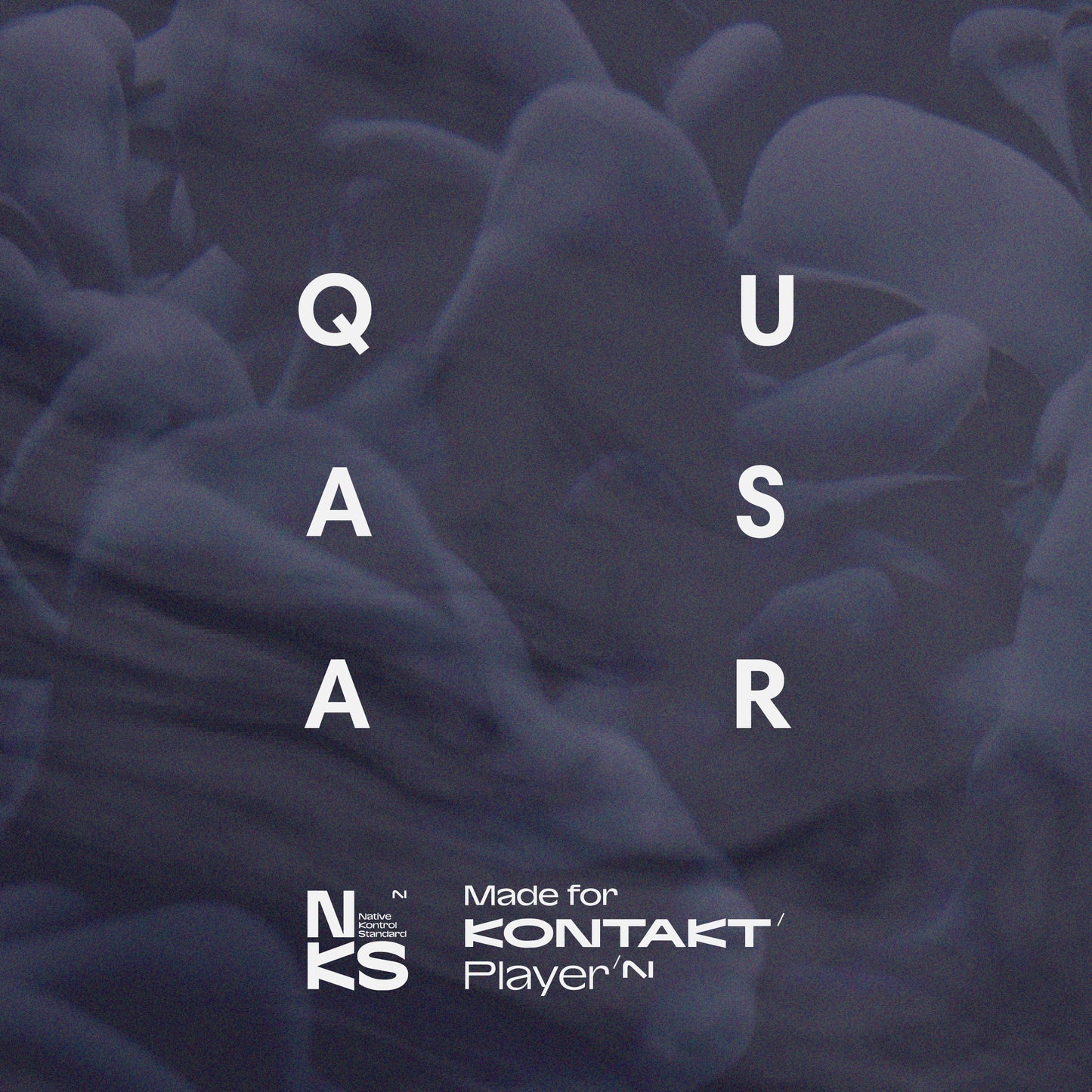 Acoustic

Unusual strings, brass, mallets, or voices for a totally different vibe from your typical orchestral library.

Synthetic

Classic analog and digital syntheizers for pads, stabs, basses, or experimental patches.

Organic

Heavily processed textural and ambient sounds created with fields recordings or everyday objects.
"Let the instrument do its magic"
Quasar is not your standard synthesizer! At the heart of the library are 67 sampled instruments and sounds for immediate results and unique atmospheres. From classic analog synth patches or acoustic instruments to the most unexpected sounds of everyday objects, its versatility will serve you in many situations making it a great addition in your composition tools.
With a multimode filter and LFO, envelope, drive, modulation, delay and reverb, get an infinity of sound possibilities.
Once you found your sound, just play one note or chord, and let the instrument do its magic.
Massive spaces

Despite their varieties, all the recordings have one thing in common :
They were heavily sent and drowned in reverberation units or real acoustic spaces. This results in new and original texturesresonating for long times almost hiding the natural instruments' timbres.
Here is the beauty of the library : It's not about how many notes or chords you play but more about how you let them build over time and develop their own unique soundscapes.

Long and dynamic samples

In addition to the reverb, many patches have been recorded at multiple dynamic layers or for long times.
Dynamic layers let you access different sample sets to get new character in the sounds like added effects, modified reverbs and more, giving you more life and expressiveness.
Long patches have been recorded while adjusting parameters or varying the playing method. This results in immediate and long evolving performances.
Multimode filter to sculpt the sounds to your needs. 
Multimode LFO modulating the filter to get sounds going from smooth movements to massive craziness. Drive for subtle warmth or to completely destroy the sound bringing it in new horizons.
Vibrato, chorus, phaser or flanger, modulation effects will add life, movement, and space to any of the patches.
Delay and reverb

Classic ADSR envelope to get sounds going from lush pads with slow risings to snappy or percussive stabs and hits.
Low and high frequencies level controls to change the timbre or simply incorporate the instrument to your compositions.
Full control over the LFO waveform, timing and trig behavior for maximum flexibility and movement.
Collapsible content
Software

Works with the free KONTAKT Player software or KONTAKT 6.4.2 and higher
NKS ready

Full support for Native Instruments software and hardware including browsing, sound previews, key light-guides and more. Learn more about NKS here.
Samples

More than 150 snapshots
Nearly 1100 samples at 48kHz, 24bit
Disk space

5.15GB of disk space needed
Installation

A serial number will sent by email after the order has been processed (usually takes less than 2 minutes).
Authorize and install the library with it on Native Access software. If you don't have Native Access already installed you can get it here.